A5.B One Bed/One Bath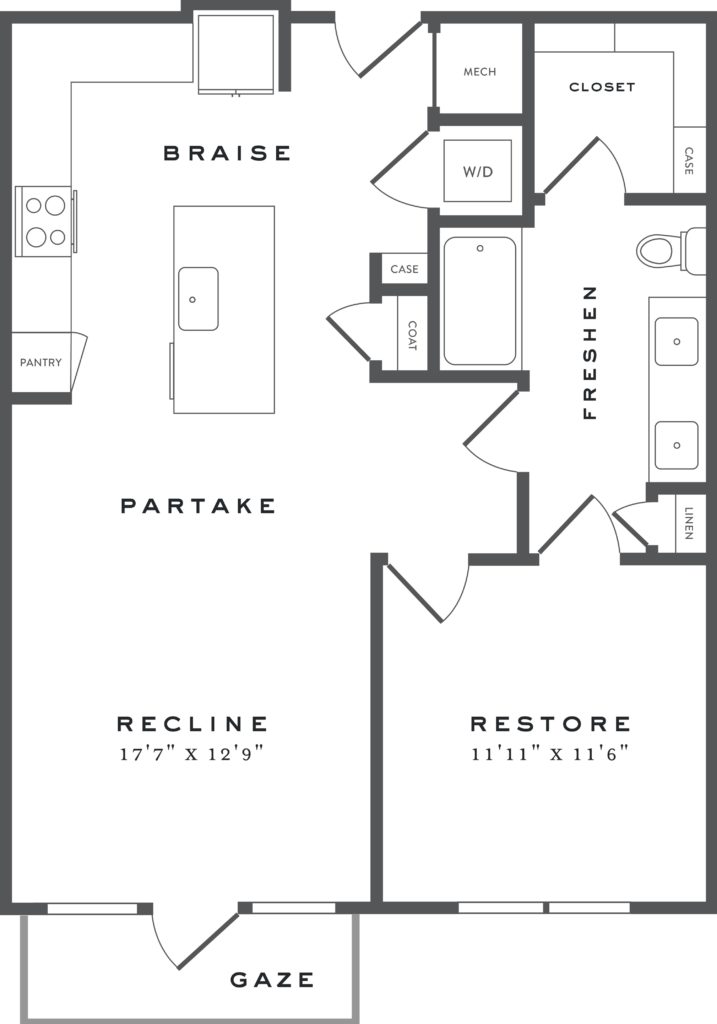 If you ever had dreams to live better, now is the time to act. Make your move to Alexan Garza Ranch, luxury apartment homes in Austin, Texas. See what you have been missing by scheduling an online virtual tour. Tour floorplan after floorplan and find the right one for you. How many bedrooms do you need to be happy? Each layout lets you stretch out and relax. Cherish your downtime. Every home has luxury apartment features that keep you comfy around the clock. Dive into community amenities that make life easier. Click away all night long, buying the things that bring you joy. Your packages will be ready for pick up 24/7 via the Hub by Amazon. Don't bother stalking your packages online, eagerly awaiting delivery. Stop worrying; they will be there. Sacrificing your living area for bike repair is a thing of the past with the bike repair center.
A5.B One Bed/One Bath
Your life of luxury starts with the right floorplan, like the A5.B one bed/one bath. You can do a lot of living in eight hundred twenty-four square feet. Stroll into your gourmet kitchen as soon as you come home. Feel like a celebrity chef with every meal you make. Your convenient laundry niche and deep pantry are opposite the kitchen, available but tucked nicely away. Your gourmet kitchen flows easily into your living area. Kick back and relax, your living area also offers easy access to your private balcony. Change your point of view by changing your perspective. Recharge your batteries in your peaceful bedroom, then pop into your spa bathroom when you want to freshen up. Your spa bathroom hosts a wonderful walk-in closet with room for every season of your wardrobe. Start living your best life now.
Step towards luxury with the A5.B one bed/one bath luxury apartment home at Alexan Garza in Austin, Texas. Schedule your online virtual tour today!